Tribal Chocolate is a revolutionary evolution on a traditional institution. We're serving grown-up hot chocolate with a double degree in decadence and style. No fluff, all flavour and only nutritious goodness designed to energise your day. Our drinks are dairy-free, delicious and delivered to your door, ready to drink.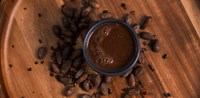 Hello Sydney! We're delivering again.
MORE INFUSIONS:

Six spring inspired infusions with healthy infusions to spark perfect picnic conversations.
DELIVERING 4 DAYS A WEEK - Fri, Sat, Sun, Mon

Be it celebrating the end of a week, weekend picnic indulgences or kick-starting the weekend in the best way possible. We have you covered.
"I took a 1 litre flask on a long weekend away to visit family. It stayed hot for days and we used the last little bits to pour over ice cream. A big hit with Mum and Dad."
- Shelley